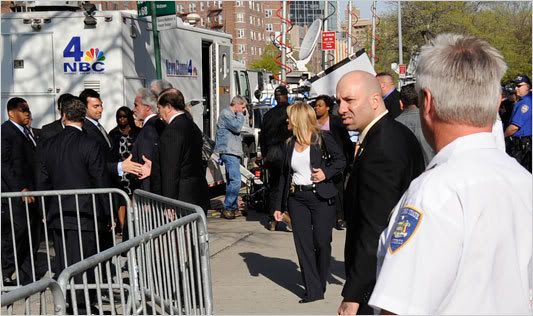 Crowds and news crews gathered at the Queens Criminal Court building in anticipation of the verdict in the Sean Bell shooting trial. (Photo:Robert Stolarik for The New York Times)
Updated, 9:50 a.m. | The crowd continues to express anger for the cameras, but is relatively calm as supporters of Sean Bell's family wait for them and the Rev. Al Sharpton to emerge to make a statement.
"They got away with murder in there," said Calvin B. Hunt, a man in the crowd, which continued to spill into two of the three westbound lanes of Queens Boulevard, slowing traffic to a crawl.
William Hargraves, 48, an electrician from Harlem brought his 12-year-old son, Kamau, to the courthouse this morning. He said this verdict parallels the outcome of previous police shootings of black men. "Connect the bullets," he said. "How many times did they shoot Diallo? Forty-one times. They were acquitted. They got a pension."
His son said: "I think it's not right, because they shot him 50 times. They knew he was hurt, and they kept shooting him. He didn't even have a gun."
9:30 a.m. | A crowd of Sean Bell supporters outside the courthouse is surrounded by television cameras and reporters. Some are loudly and bitterly denouncing the verdict, while others watch. Lines of uniformed police officers are trying to keep the crowd contained to the sidewalk, but some have spilled into an eastbound lane of Queens Boulevard, all but stopping traffic. Many are waiting for the Rev. Al Sharpton to arrive and speak. Some in the crowd are yelling at Patrick J. Lynch, the head of the police officers' union, who is behind a barricade speaking to reporters. "Every time a police officer goes on the street there is never a script," he said. "We have to deal with circumstances as they come."
CONTINUE